18th Chicago Bike Winter Art Show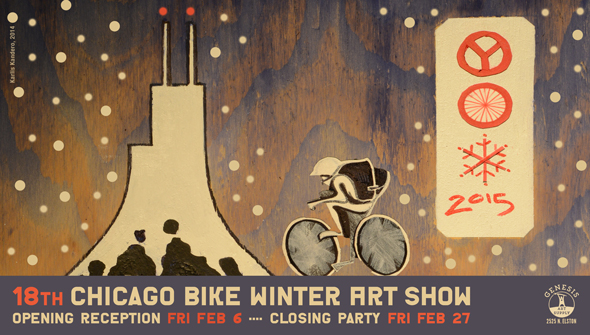 ---
Chicago Public Radio, WBEZ
Bikers Bring Art to
the Masses
Tomorrow is the last Friday of January and a cold day for Critical Mass, a monthly event where bikers swarm the city streets. But this month an art show is giving riders some creative inspiration for braving the elements.
[
audio + text
]
>
see all press clips
---
Bike Winter Art Show History
I mention this night at Quenchers because it was here that the seed for the Critical Mass Art Show took root. Some of us were talking about the idea as a way to keep the group active through the Winter when the monthly rides were likely to be skimpy. A new rider, Travis, happened to overhear our conversation, and said he knew a gallery we could use. The rest, as they say, is (or will be)
history
.
- Jim Redd (Ride Report Oct. 1997)
Chicago Bike Winter Art Show
Feb 6 - 27, 2015
Genesis Art Supply
2525 N. Elston
CALL FOR SUBMISSIONS
We are about showcasing bike art in all mediums, just make sure your work is at least a teensy-bit bike related. We've seen everything from stuffed animals wrapped in inner tubes to bike sweaters literally knitted right on a frame, so get creative with it!
We end with a bike fashion show on Fri Feb 27, and we are also looking for local designers of bike clothing and accessories.
Submission Deadline: Sunday February 1, 2015
Email your name, title of work, description, dimensions, and price along with photo(s). If you have a sculpture or site specific installation, contact us ASAP: bikewinterartshow-at-gmail.com
PLEASE PASS THIS ALONG TO OTHER ARTISTS!!!this is an inclusive community show, and we need all help we can get :)
Steven Lane & Stuart Hall
Co-curators, Bike Winter Art Show