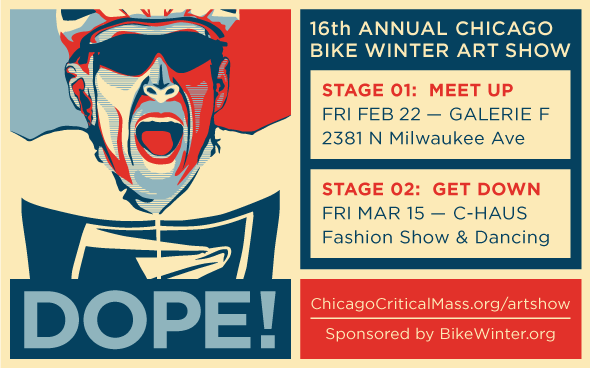 ---
Chicago Public Radio, WBEZ
Bikers Bring Art to
the Masses
Tomorrow is the last Friday of January and a cold day for Critical Mass, a monthly event where bikers swarm the city streets. But this month an art show is giving riders some creative inspiration for braving the elements.
[
audio + text
]
>
see all press clips
---
Bike Winter Art Show History
I mention this night at Quenchers because it was here that the seed for the Critical Mass Art Show took root. Some of us were talking about the idea as a way to keep the group active through the Winter when the monthly rides were likely to be skimpy. A new rider, Travis, happened to overhear our conversation, and said he knew a gallery we could use. The rest, as they say, is (or will be)
history
.
- Jim Redd (Ride Report Oct. 1997)
---
Bike Winter Fashion Show
C Haus :: 1617 N. Drake Avenue
Fri Mar 15, 6pm - Midnight
The all inclusive community phase of our show will be hosted by C Haus, a new exhibition/event space located in Humboldt Park. C Haus is a large space conducive to installation and sculptural works, and it is the perfect venue for the Bike Winter Fashion Show. We are stoked Rapid Transit Cycleshop is producing the fashion show again for the 4th year in a row, and we will provide space for local designers to sell bike fashion and jewelry.
Submission Deadline: Sun Mar 10
Please submit work to bikewinterartshow-at-gmail-dot-com
Bike Winter Art Show
Gallerie F :: 2381 N Milwaukee Ave
Opening Party Fri Feb 22, 6-10pm
Billy Craven of Galerie F offered up his spot in Logan Square. Billy designed and printed the poster for our show last year in gratis, we sincerely thank him for his continued support of the community. www.galerief.com