BikeRadar.com
Chicago riders love a
little snow
By Rosee Woodland
Chicago Public Radio
Bikers Bring Art to
the Masses
Produced by Nick White
Chicago Public Television

Produced by Jay Shefsky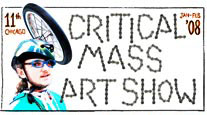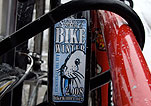 Her 1st Snow Ride
I convince my girlfriend that cold and snow are no reason to stop biking. Holiday shopping is a joy with no traffic jams and the endless search for parking.
Winter Solstice Ride
Follow a cycling choir of carolers biking by candlelight hauling a wooden goat to Mr Bike's Winter Solstice Bonfire, we had fun circling the fire. The goat, not so much.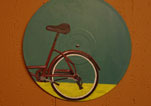 Art Show Opening
The 11th Annual Critical Mass Art Show opened on Friday January 11 at Mercury Cafe. Over a dozen artists displayed work, and over a hundered people attended the opening.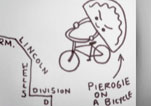 The Polka Ride
Join us on the 8th Annual Chicago Critical Mass Polka Ride! After every January CM ride, we are treated to a punk polka show compliments of the Polkaholics!!!
Auto Show Shutdown
This year crash test dummies and superheroes biked to McCormick Place to warn the car buying public of the evil ahead of them.
autoshowshutdown.org
Art Show Closing
Thanks to Mayor Daley for the Bike Winter Fireworks display, but the real show was the closing party for the Critical Mass Art Show at the Heart of Gold.
hi, my name is Steven
I put this Chicago Bike Winter 2008 wrap-up together, check out my first bikeumentary produced in December 2005. Ahhh... the memories =)