To celebrate the 15th anniversary of Critical Mass rides gathering around the Chicago Picasso, we are going to print 1,000 CCM shirts and give them away. We need money, blank shirts, and your help!
---
Donate Money :D
It's going to take $2,000 to print 1,000 shirts. Kinda weird to collect money for a t-shirt giveaway, but DIY is the only way to avoid sponsor logos cluttering up yer Critical Mass shirt, which would be so un-Masslike. Cycling brothers and sisters, can you spare two tree dollahs? You'll get first dibs on a sweet shirt and share in the glory of the giveaway!
(pretty-please?)


---
Photos from the CCM 10th Anniversary T-shirt Giveaway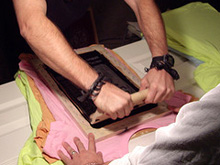 We printed 800 shirts to celebrate a decade of Happy Fridays, check out pics of the awesome people that came together to
make it happen
.
---
CCM 15th Anniversary Ride
Delay Plaza, Dearborn & Washington
Friday September 28, 5:30pm
There are reports of Chicago Critical Mass rides happening in the early nineties, but no one has records of when the first rides started, so we mark our anniversary from September 1997, when cyclists first started massing up around the Chicago Picasso. Fifteen years later, Chicago Critical Mass draws thousands of participants the last Friday of every month growing stronger each year, join us for an extra rad ride with after party.