June, 2012 Ride
«
<
June, 2012 Ride
>
»
Add your own flyer...
Ride Flyers:
The Derailleur June 2012
Submitted by willownaeco on Sun, 2012-07-15 11:36.
derailleur
Designed by
willow naeco
for the
June, 2012 Ride
Pride Ride
Submitted by Bedno on Wed, 2012-06-27 15:36.
map
Designed by
Andrew + willow
for the
June, 2012 Ride
Hey Massers!
For Friday June 29th 2012, I propose a very indirect and diagonal-heavy route from Daley Plaza to Boystown.
"Pride Ride - Always forward, never straight!"
A draft is at http://tinyurl.com/ccm20120629a
It's under 14mi, avoids Wrigley, ends around Halsted+Roscoe or lakefront. I know the streets pretty well but welcome feedback.
It's far more twisted than my usual and a challenge to memory, so old hands PLEASE help it happen. I'll concentrate on staying slow and cool.
http://TheChainLink.org/group/criticalmassdiscussion/forum/topics/the-not-straight-mass
http://Facebook.com/ChicagoCriticalMass
FOLLOW US LIVE ON MassUp.us
MAPPY CUES:
Daley Plaza
W on W Randolph St
NE on N Wacker Dr
N on N LaSalle St
W on W Kinzie St
S on N Desplaines St
W on W Randolph St
NE on N Ogden Ave
NW on N Milwaukee Ave
E on W Division St
NW on N Elston Ave
N on N Ashland Ave
NW on N Clybourn Ave
E on W Diversey Pkwy
NW on N Lincoln Ave
N on N Ravenswood Ave
E on W Monstrose Ave
SE on N Clark St
E on W Irving Park Rd
S on N Broadway
W on W Belmont Ave
S on N Halsted St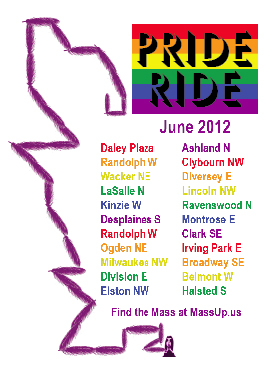 Download:
CCM-20120629-PrideRide-r3.jpg
Download:
CCM-20120629-PrideRide-r2.jpg